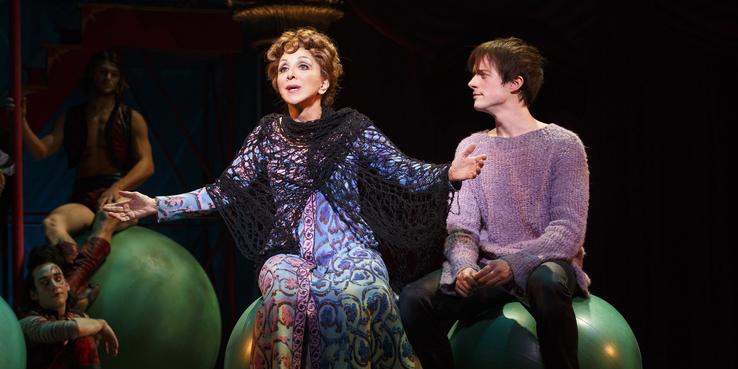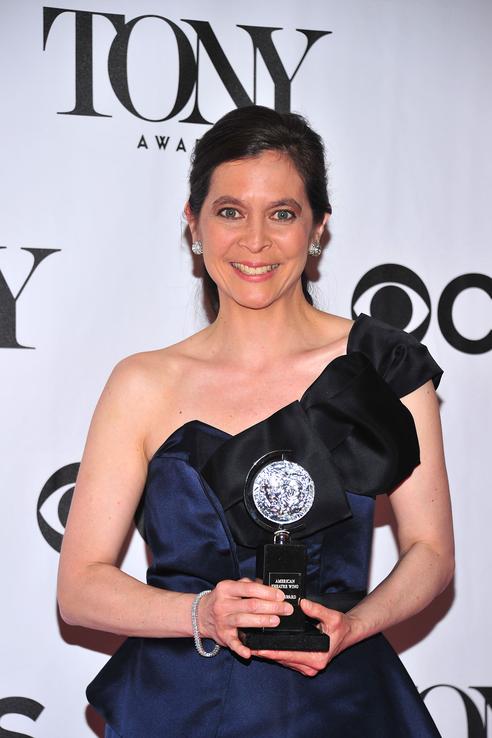 NEW YORK —
The cast of the high-flying revival of 'Pippin' is walking on air after coming away with four Tony Awards and performing the musical's signature number during the telecast from CBS in New York Sunday night.
The musical – which had an acclaimed run at the American Repertory Theatre at Harvard in Cambridge before moving on to Broadway – was nominated for 10 awards and won the Tony for best revival of a musical.
Diane Paulus, the A.R.T.'s artistic director since 2009, picked up her first Tony for best direction of a musical.
Emerson College grad Andrea Martin, 66, a Maine native who plays the part of Pippin's grandmother Berthe and stuns audiences nightly by doing jaw-dropping stunts, won the Tony for best featured actress in a musical.
South Carolina actress Patina Miller won for best performance by a leading actress in a musical, for her role as The Leading Player in "Pippin."
Young Weston actor Andrew Cekala, who is featured in a pivotal moment at the end of the musical, showed off his acrobatic talents as he balanced on a large ball during the "Magic To Do" number performed by the cast.
Boston's Huntington Theatre Company was honored with the Tony for regional theater. It was accepted by Artistic Director Peter DuBois and Managing Director Michael Maso.
"This (award) puts wind in our sails," said DuBois in the acceptance speech for the theater which was founded by Boston University in 1982.
The feel-good musical "Kinky Boots," with songs by pop star and Broadway newcomer Cyndi Lauper, won six Tonys, including best musical, best score and best leading man.
Christopher Durang's comical "Vanya and Sonia and Masha and Spike" won the best play Tony. "Matilda the Musical" won four awards.
Lauper, who wrote the hit "Girls Just Want to Have Fun," was part of an impressive group of women who took top honors. Diane Paulus and Pam MacKinnon both won for directing — a rare time women have won directing Tonys for both a musical and a play in the same year. (It also happened most recently at the 1998 Tonys.)
"Kinky Boots" also won for choreography and two technical awards, and Billy Porter won for leading man in a musical.
Porter beat "Kinky Boots" co-star Stark Sands and told him from the stage: "You are my rock, my sword, my shield. Your grace gives me presence. I share this award with you. I'm gonna keep it at my house! But I share it with you."
Durang, whose other works include the play "Beyond Therapy," was a Tony nominee for "A History of the American Film" and his "Miss Witherspoon" was a Pulitzer Prize nominee in 2006.
MacKinnon won for directing the play "Who's Afraid of Virginia Woolf?," a year after earning her first nomination for helming "Clybourne Park." Her revival of Edward Albee's story of marital strife won the best play revival and earned Tracy Letts his first acting Tony, an upset beating of Tom Hanks.
"The greatest job on Earth. We are the ones who say it to their faces, and we have a unique responsibility," Letts said.
The Tonys were broadcast live by CBS from Radio City Music Hall. Neil Patrick Harris was back for his fourth turn as emcee and leads a show featuring talented children and pulse-pounding musical numbers.
The big, opening number started with Harris simply holding a guitar in a pub like "Once" but quickly morphed into a flashy razzle-dazzle number that showcased performers from almost a dozen musicals — and even ex-boxer Mike Tyson dancing. Harris sang "It's bigger! Tonight it's bigger," jumped through a hoop, vanished from a box and promised a "truly legendary show" before glitter guns went off.
Courtney B. Vance won for best featured actor in a play for portraying a newspaper editor opposite Tom Hanks in "Lucky Guy." He dedicated his award to his mother.
Judith Light won her second featured actress in a play Tony in two years, cementing the former TV star of "One Life to Live" and "Who's the Boss?" as a Broadway star.
She followed up her win last year as a wise-cracking alcoholic aunt in "Other Desert Cities" with the role of a wry mother in "The Assembled Parties," in which she goes from about 53 to 73 over the play's two acts.
"I want to thank every woman that I am in this category nominated with: you have made this a celebration, not a competition," she said.
Gabriel Ebert of "Matilda the Musical" won as best featured actor in a musical. He thanked his four Matildas and his parents, stooping down to speak into the microphone.
Cicely Tyson, 88, won the best leading actress in a play honors for the revival of "The Trip to Bountiful," the show's only award on the night. It was the actress' first time back on Broadway in three decades.
"'Please wrap it up,' it says. Well, that's exactly what you did with me: You wrapped me up in your arms after 30 years," she said.
The Associated Press material was used in this report.
Source: http://www.metrowestdailynews.com/news/x793336586/Pippin-cast-and-crew-flying-high-with-4-Tony-Awards?zc_p=0#axzz2W7GtPyHB