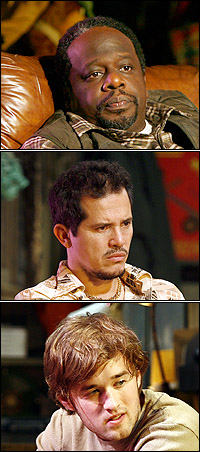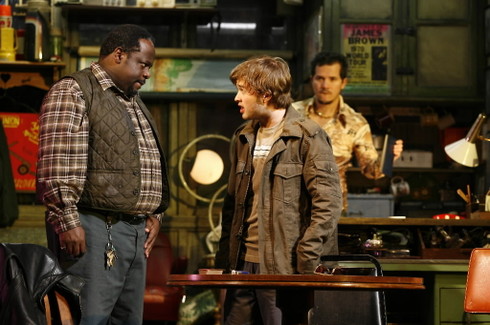 Norton Herrick is a producer of the Broadway revival of David Mamet's American Buffalo.
American Buffalo, according to press notes, "follows three small-time crooks who wax philosophically about society while conspiring to steal a rare and valuable coin from a neighborhood collector. Volcanic and motor mouthed Teach (Leguizamo) schemes and spars with fatherly, street-smart junk shop owner Donny (Cedric the Entertainer) enlisting Bobby (Osment), a slow-witted and desperate young delinquent, to carry out their misbegotten robbery."
The creative team also included set and costumer designer Santo Loquasto, lighting designer Brian MacDevitt, fight director Rick Sordelet, technical supervisor Larry Morley and production stage manager Robert Bennett.
David Mamet's 1976 Obie Award-winning play, American Buffalo, originally opened at Chicago's Goodman Theatre. The play established Mamet's reputation when it ran on Broadway in 1977 with a cast that featured Robert Duvall, John Savage and Kenneth MacMillan. It was revived by Al Pacino at the Booth Theatre in 1983. A 2000 Off-Broadway revival at Atlantic Theater Company starred William H. Macy as Teach. A 1996 film starred Dustin Hoffman and Dennis Franz.
A founder of the Atlantic Theater Company, David Mamet's principal works include The Duck Variations, Sexual Perversity in Chicago, American Buffalo, Glengarry Glen Ross (Pulitzer Prize), Boston Marriage, Edmond, Oleanna, Speed-the-Plow and The Cryptogram (Obie Award). He recently adapted The Voysey Inheritance for the Atlantic and was represented on Broadway last season with the political comedy November. A Broadway revival of Mamet's Speed-the-Plow, which co-stars Jeremy Piven, Raul Esparza and Elisabeth Moss, recently opened at the Ethel Barrymore Theatre.
Falls is the artistic director of the Goodman Theatre. His Broadway directorial credits include The Speed of Darkness, The Rose Tattoo, The Night of the Iguana, The Young Man from Atlanta, Death of a Salesman, Aida, Long Day's Journey Into Night, Shining City and Talk Radio. He won a 1999 Tony Award for his direction of the Salesman revival.
Leguizamo's one-man shows include Mambo Mouth, the Tony-nominated Sexaholix (later taped for HBO; Emmy Award) and Freak: A Semi Demi Quasi Pseudo Autobiography, which also garnered the actor a Tony nomination. Also a film star, Leguizamo appeared as Toulouse Lautrec in Baz Luhrmann's "Moulin Rouge"; in "To Wong Foo, Thanks for Everything, Julie Newmar" in drag as Miss Chi-Chi Rodriguez; and in Luhrmann's "Romeo + Juliet" as a Virgin Mary gun-toting Tybalt. His biggest role came in the 1999 Spike Lee film "The Summer of Sam." Leguizamo also starred in the HBO drama "Undefeated," which he also directed, and was seen in the independent film "Sueno."
Cedric the Entertainer (Missouri-born Cedric Kyles) is an actor-comedian whose film credits include "The Original Kings of Comedy," "Be Cool," "Welcome Home, Roscoe Jenkins," "The Honeymooners," "Madagascar," "Ice Age," "Man of the House," "Barbershop" and "Barbershop 2," among others.
Haley Joel Osment, who was Academy Award-nominated for his performance in "The Sixth Sense," is making his Broadway debut in American Buffalo. Osment has also been seen on screen in "A.I.," "Forrest Gump" and "Secondhand Lions."
American Buffalo is produced on Broadway by Elliot Martin, Ben Sprecher, Louise Forlenza, Bryan Bantry/Michael S. Rosenberg, Max Weitzenhoffer/Nica Burns, Wendy Federman, Bozeman Group LLC, Stewart F. Lane/Bonnie Comley, Jay Harris, William Franzblau, Oscar Joyner, Ken Wydro/Vy Higginsen, Ray Larsen and Nelle Nugent in association with Max Cooper and Norton Herrick.
American Buffalo played 20 previews and eight regular performances from
Oct. 31 to Nov. 23, 2008.