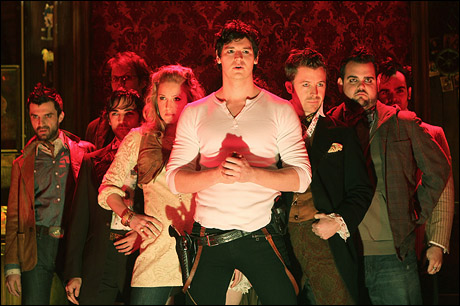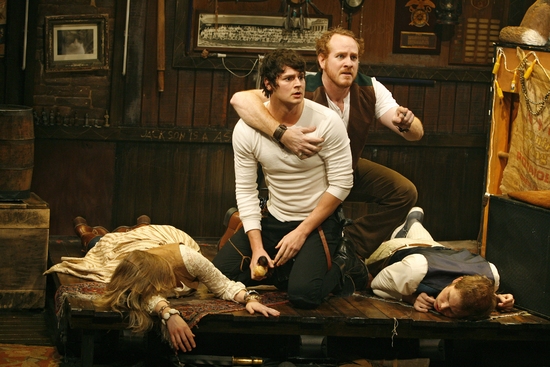 Norton Herrick is a producer of the hit Broadway musical, BLOODY BLOODY ANDREW JACKSON.
This spring's biggest downtown hit was undoubtedly BLOODY BLOODY ANDREW JACKSON. Rolling Stone called it "the season's best musical" and audiences flocked to The Public Theater-where iconic shows like A Chorus Line and Hair started out-to see what the daring young creative team ALEX TIMBERS (writer/director) and MICHAEL FRIEDMAN (composer/lyricist) had cooked up. Now, by populist demand, their bloody brilliant show is packing up its tight, tight jeans and heading to Broadway!
In BLOODY BLOODY ANDREW JACKSON, rising star BENJAMIN WALKER reprises his role as America's first political maverick. A.J. kicked British butt, shafted the Indians and smacked down the Spaniards all in the name of these United States-who cares if he didn't have permission? An exhilarating and white-knuckled look at one of our nation's founding rock stars, BLOODY BLOODY ANDREW JACKSON recreates and reinvents the life of "Old Hickory," from his humble beginnings on the Tennessee frontier to his days as our seventh Commander-in-Chief. It also asks the question, is wanting to have a beer with someone reason enough to elect him? What if he's really, really hot?
Reviews
"There's not a show in town that more astutely reflects the state of the nation than THE ROWDY CARNIVAL BLOODY BLOODY ANDREW JACKSON. Hot and cool in one breath, this INVIGORATING production feels UNCONDITIONALLY OF THE MOMENT. BEN WALKER has a star's gift and THE CHARISMA TO RULE ANY STAGE, UPTOWN OR DOWN. This DEVASTATINGLY INSIGHTFUL show is likely to remain a true reflection of these United States for many years to come."
-The New York Times
"GRADE: A! If you haven't seen it yet, WHAT ARE YOU WAITING FOR? Shows this WEIRD and WONDERFUL don't make it to Broadway every day."
-Entertainment Weekly
"INSANELY FUNNY! BBAJ MAKES A BID FOR THE SMARTEST, SHARPEST NEW MUSICAL IN YEARS. Not since Sondheim's ASSASSINS has a Broadway musical so starkly and brutally examined the underside of the American Dream. OF THEE I SING by way of SOUTH PARK, SCHOOLHOUSE ROCK and THE COLBERT REPORT!"
-Time Out
"IRREVERENT & SUBVERSIVE!"
-New York Post
"OFFBEAT, FRESH & FUN! BENJAMIN WALKER is MAGNETIC. IT'S WORTH THE BENJAMINS!"
-Daily News
"90 THOROUGHLY AUDACIOUS, POLITICALLY SAVVY, POLITICALLY INCORRECT MINUTES."
-Newsday
"BLOODY GOOD! A PROVOCATIVE, SCATHING and TOPICAL satire with WILD and ZANY humor. BENJAMIN WALKER gives a STAR-MAKING performance."
-Variety
"A WILDLY ENTERTAINING RIDE!"
-The Record
"BENJAMIN WALKER BLAZES!"
-The Financial Times
"WHOLLY FEARLESS AND ARRESTING. The CONSUMMATE musical for the Wikipedia age."
-Chicago Tribune
"BLOODY BRILLIANT! A UNIQUE TRIUMPH in both POLITICAL and MUSICAL THEATER. A chaotic combination of youthful exuberance, historical fact, populist ideology and gross humor."
-amNY